Jeff Hurst, Hurst Total Home – HAMP Program

I knew when first hearing of the Home Asset Management Program that I was on to something good. In fact everything about this program has far exceeded my expectations. To date I've have had exceptional client feedback regarding the HAMP program.
We presented our concept at a focus group of past clients of ours and at least 75% were interested. Many wanted to sign up before we even completed our presentation.
My only concern is trying to offer the program initially to "too many clients at one time" and not being able to service the clients. I have secured preliminary agreements from several and some have even said that they want to turn us onto their friends that are interested that are not even past clients of ours.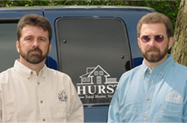 It's been great taking David's package and modifying it for our company. We are still working on developing "our package" and there are several different tiers. The few I have made initial site visits to have signed work contracts for multiple projects and they have solid numbers for planning and budgeting additional work that will be produced in the future by our company.
It is a great concept and we will continue to modify it to generate many opportunities for our company in the future.
This is certainly an opportunity for anyone that wants to take initiative to stay in touch with their clients and assure there is a face to face meeting to discuss remodeling and improvements every year.
Clients tend to forget what you've done for them. The HAMP program is marketing "they pay you to do". Just set the appointment and take notes for the work that needs to be done.
Thanks for your ground work. We are going to cycle it in slow and as time will allow using it as filler and add to our backlog.